Presta is Proud to Support Small Businesses
Keeping it real
May 25, 2020
With Serbia facing a contraction of its economy due to the COVID-19 pandemic, now more than ever it's important that we support small and medium-sized businesses. Since 2014, Presta has been helping small businesses with their web presence, whether it's web design, web development, or app development. We help bring out the best from our clients to create a memorable and unique web experience that communicates with the customer and serves its purpose.
Feeling sluggish in this time of uncertainty? We can help you remake your brand and facilitate all your digital needs. We are dedicated to finding solutions for your business that will speak to its target audience. Today, you need to stand out from the crowd with the latest state of the art interactive interface that will improve your relationship with customers. We assess the necessity for every function and visual placement because the best products are born out of rigorous testing, collaborative ideation, and constructive iteration.

A great way to show support for your favorite business is to write a review and post it on a review platform. Our review platform of choice is Clutch, a B2B ratings and reviews site so we can view honest feedback from our clients. We have an average rating of 4.9 out of 5.0 stars on our profile and we just received another great 5.0-star review from one of our clients.
"They communicate very effectively, and even in the middle of the night they still respond within a couple of hours." –CEO, NOA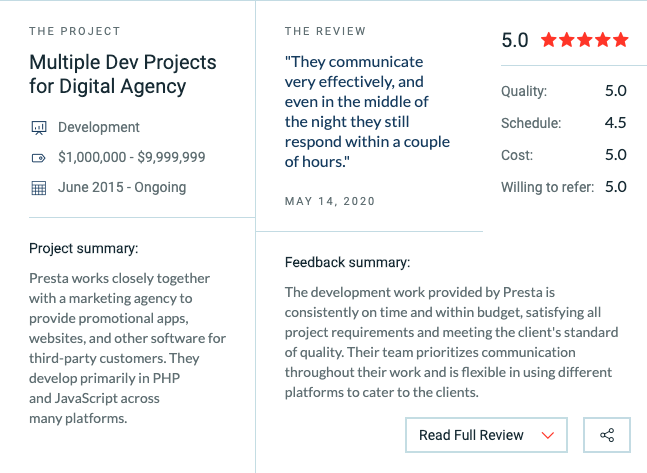 For NOA, we work closely with them to provide promotional apps, websites, and other software for third-party customers. We develop primarily in PHP and JavaScript across many platforms.
Clutch's sister site, The Manifest, helps you find businesses for future projects. In the world today, an organization's digital presence is integral to its success and a well-crafted website is the cornerstone of that presence. With so many decisions when looking for a web development company, lists have been crafted to take the time out of the search. Find the best company to fit your business's needs to help you stand out from the competition.
Let's push the boundaries of the digital world and start a project. Get in touch with us on our website.